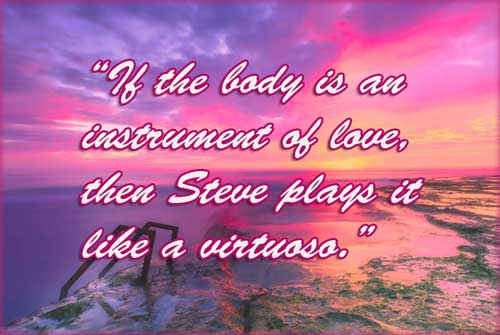 Truth – Testimonials
Review us
on Google
Review us
on Facebook
---
"If the body is an instrument of love, then Steve plays it like a virtuoso. My session was an unexpected voyage of self-discovery as if I was exploring my range of sensations for the first time. Sixteen years of massage has granted Steve consummate confidence, but the real gift is his light and playful presence which challenged any trauma to remain traumatic for long. Long live the avant-garde practitioner!"
— Natalia, Great Britain
---
"Dear Steve,
My first intention when I bought this card was only give to you my gratitude for your self: your Shiva energy, your male warmth, your eyes, plenty of light. I appreciate a lot the massage that you offered me, because it was like a bridge between my body and my soul, and also like a new beginning. But right now, in the present moment, I want to also say to you that you remember me something within very known, like the dolphin I saw. You are my dolphin. And you will be in my heart forever. I'm sure. I wanted to give to you a natural flower, but it won't be ok when you come back to the USA, so I give you in this way. The picture is like my home is. My heart is your heart. Nothing to do. Only breathe and have an inner smile. With all my love,"
— Gaèlia, Spain
---
I had a massage from Steve yesterday on my thigh that was giving me a lot of nerve pain. Excellent results! Best I've felt in months!
— Jeffery, Wisconsin
---
"Windsong's touch not only relaxes but transforms, through her work I felt my original beauty exposed."
— Seres Kyrie, Bellingham, WA
---
"I can escape here, with WindSong, to find my true, core self. It's a deliverance from the mundane everyday routine of life. I can restore myself & renew myself. It's not a room, it's a womb."
— Genene
---
"What WindSong brings to me… trust, something elusive to me, so wonderous!"
— Sally
---
Windsong, recapturer of misplaced souls, exceptional breathmaker
— Kerri J., Minoqua
---
Contact us today to get started by either calling 715.362.3230 or emailing steve@moesong.com.